Second Thought Theatre Co-Artistic Directors Steven Walters and Chris LaBove are proud to announce that Second Thought Theatre will be leaving Addison and officially returning to Dallas, TX.  Performances for the 2011-2012 Season will take place in Bryant Hall on the Kalita Humphreys campus.
"Second Thought has always been a Dallas company.  We were founded in Dallas.  We cut our teeth in Dallas.  And we're thrilled to be coming home," said Steven Walters.
"It's hard to believe that almost eight years ago, Second Thought Theatre started performing plays on the Kalita Humphreys campus, upstairs in Frank's Place.  It feels like, with our return to Dallas to perform in Bryant Hall, things are coming full circle for STT," said Second Thought Theatre Artist in Residence Drew Wall.
The move to Dallas isn't the only change Second Thought Theatre patrons will see this year.  STT has also changed its website to www.2tt.co
"Last year STT went green.  We switched to purely internet based marketing and eliminated playbills in favor of digital projections.  We used the money we saved to pay more to our artists as we strive to be a leader in production quality in the community. This year we are taking things one step further.  Audiences will use their smart phones to either download the playbill to their device at home or scan a QR code to interact with the website and download the playbill to their device once they arrive.  Other theaters tell you to turn your cell phones off.  But not us.  We want you to leave them on, in silent mode of course," said Chris LaBove.
Second Thought Theatre will be announcing the 2011-2012 Season in the coming weeks. 
All shows in STT's 2011-2012 Mainstage Season will be performed in Bryant Hall on the Kalita Humphreys Campus, 3636 Turtle Creek Blvd Dallas, TX 75129.  To make a donation or to find out more information, please visit www.2tt.co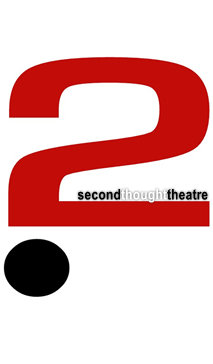 About Second Thought Theatre

Second Thought Theatre is a Dallas based theatre company comprised of an eclectic group of actors, designers, playwrights, directors, and arts administrators dedicated to providing the Dallas community with a quality of performance that is in keeping with the highest national standards. Second Thought Theatre seeks to capture the moment of creation between artist and audience. Dedicated to ensemble productions that explore challenging and dramatic works from the canon of theatrical literature, we strive to enlighten and entertain our audience by pushing the boundaries of human thought and emotion. Old works done in new ways, new works done in old ways. Everything is possible when you take a second thought.