The side street off Skillman Street, formerly named Impala Lane was changed to Theater Way today as a result of a city council vote that took place this past September. DCT staff, board and council members Sheffield Kadane and Jerry Allen were on hand for the installation this morning, Monday, November 14 at 9:00 am at DCT's Rosewood Center for Family Arts, 5938 Skillman, Dallas, Texas 75231. A reception culminating the effort followed.
"As a non-profit organization, our marketing dollars are limited," says DCT Executive Artistic Director, Robyn
Flatt. She continues, "With the development of the Timber Creek shopping area across the street, Theater
Way provides great visibility. We thank the city council for their support in helping us remain a top destination in our neighborhood."
Dallas Children's Theater's facility - the Rosewood Center for Family Arts with the Dee & Charles Wyly Family Garden - has played a major role in the Skillman Corridor Tax Increment Financing (TIF) District, contributing to the economic growth and development of the area. As the southernmost entry point to this project, DCT has significantly enhanced the gateway to the corridor since purchasing the property in 2000. Now that the car dealerships adjoining DCT's property are gone, Impala, the name of a car, carries no meaning. Theater Way
gives continuity to a site that attracts families, schools, artists and philanthropists to the Skillman Corridor.
DCT's Councilmember, Sheffield Kadane, says, "The renaming of this street is a fitting tribute to the Dallas Children's Theater for bringing so much joy to our community. This organization has become a cultural institution that has enhanced the quality of life for so many residents and will continue to act as a contributing
factor to the economic growth of the area."
Dallas Children's Theater - now off Northwest Highway at Skillman Street and Theater Way!
DCT Staff, Board and Dallas City Council members surround the new street sign just before the installation.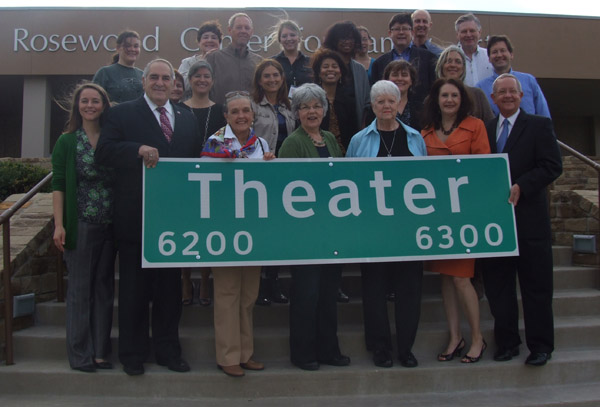 Photo by Rachel Wells. First two rows include:
Shown here, front row, left to right: Lisa Schreiner Goss (DCT PR Director), Sheffield Kadane (Dallas City Councilmember), Melissa Deakins (DCT Chairman Emeritus), Robyn Flatt (DCT Executive Artistic Director), Emily
Jefferson (DCT Board Emeritus), Cathy Corse (DCT Trustee), Jerry Allen (Dallas City Councilmember)
Second Row, left to right: Gina Waits (DCT ASD& Intern Coordinator), Elizabeth Showalter (DCT Trustee),
Julie Hersh (Chairman), Sandra Session Robertson (DCT Director of Communications and Development), Nancy Schaeffer (DCT Education Director), Carol March (DCT Trustee)
Learn more about Dallas Children's Theater and two heartwarming holiday productions, MADELINE'S CHRISTMAS and THE NUTCRACKER, opening this weekend at www.dct.org!