Dallas Children's Theater (DCT) believes in the magic of live theater and the creative spirit of youth. This summer DCT invited students in kindergarten through twelfth grade to design costumes for bees, butterflies and birds to appear in its upcoming new season production, PINKALICIOUS THE MUSICAL. Today, DCT's garden and property got pink flamingo "flocked" in celebration of announcing the winners on Friday, July 27 at 3:00 pm at Dallas Children's Theater, 5938 Skillman Street, Dallas, Texas 75231.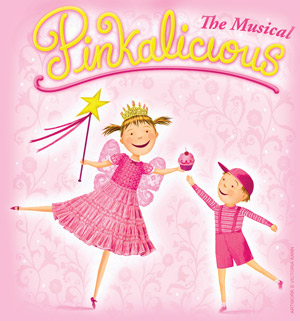 PINKALICIOUS THE MUSICAL opens DCT's 29th season on September 21 and runs through October 21, 2012, and will be directed by veteran DCT resident artist and Education Director, Nancy Schaeffer. Designing costumes for the show is acclaimed DFW and frequent DCT costume designer Lyle Huchton, who is a local star having received two Daytime Emmy Outstanding Costume Design Nominations in 2008 and 2009 for his work on the PBS television series, "Barney and Friends". Schaeffer is expanding the cast to include youth actors who will play the bees, butterflies and birds. Huchton will use the winning entry to design these ensemble roles complementing the overall design of the show. "I was inspired by previous experiences where I worked with children to create costumes, and the kids loved it," Huchton says. "I will be responsible for taking the winner's idea, and bringing it to life." DCT is grateful for this artistic generosity and the opportunity to engage with the community in such a delightful way. Schaeffer and the DCT team are thrilled for yet another opportunity to promote its mission of encouraging young people to achieve their dreams.
Drumroll please….
The grand prizewinner is 10-year-old Lily Forbes, a Hockaday student who will enter the 5th grade this fall. She wants to be a designer, actor or doctor when she grows up. When asked why she entered the contest, she said, "I love acting and designing. And I have taken classes at the Dallas Children's Theater before. I did not end up trying out for 'Pinkalicious' and when I read about this contest, I thought it would be cool to see my design come alive." Huchton will use Lily's design ideas for the bees, butterflies and bird characters, she will have a bio in the show program, receive four tickets to opening night and be recognized on the stage.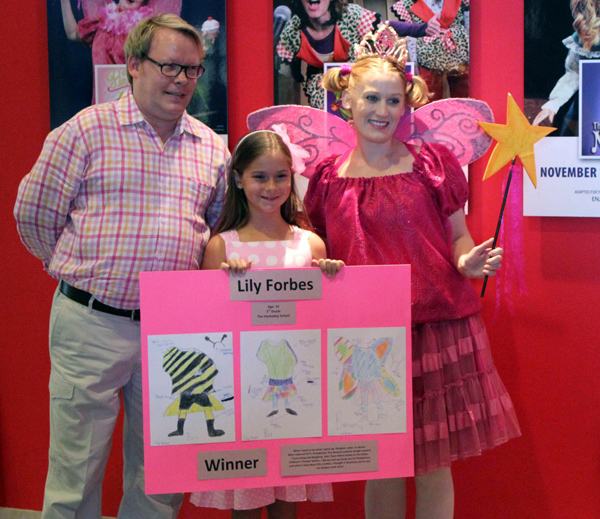 Four youth received Special Recognition in three different age categories. They are:
• Andy Woodford (Kindergarten-3rd grade)
• Sloan Short (Kindergarten-3rd grade)
• Kerry Gleim (4th-8th grade)
• Sam Knoll (9th-12th grade)
Finally, Schaeffer and Huchton were so inspired by two other entries that they decided to create two new awards:
• Claire Spigel (Runner-Up)
• Tamar Gabelev and Hailey Lane (The Pink-tastic Spirit Award for capturing the true spirit of Pinkalicious)
The Special Recognition winners, Runner-Up and Pinktastic Spirit Award winners will receive their names listed in the show program, two tickets to opening night, and recognition on the stage. Best of all, EVERY entry will be displayed in DCT's lobby for the entire run of PINKALICIOUS THE MUSICAL. So that really makes everyone a winner - is that pink-tastic or what? Everyone is unique with DCT's Pink!
Society Bakery generously provided the announcement party cupcakes.
Photo attached by Rachel Wells Shown here, left to right: Lyle Huchton, Lily Forbes, Pinkalicious (Emily Lockhart)

PINKALICIOUS THE MUSICAL Book by Elizabeth Kann & Victoria Kann
Music by John Gregor
Lyrics by John Gregor, Elizabeth Kann & Victoria Kann
Based on the book PINKALICIOUS by Victoria Kann & Elizabeth Kann
September 21 – October 21, 2012
Enjoyed by ages 5 and above
This musical adaptation of the most sparkling book ever is a celebration of FAMILY and LOVE! When Pinkalicious bites off more than she can chew, it takes a whole lot of bravery to find her true colors again. Its infectious fun has audiences cheering across the country. Bring the whole family!
Dallas Children's Theater
Rosewood Center for Family Arts
5938 Skillman Street
Dallas, Texas 75231
PERFORMANCE DATES AND TIMES:
Friday - September 21 - 7:30 pm
Saturdays - September 22, 29 & October 13, 20 - 1:30 pm & 4:30 pm
Saturday - October 6 - 1:30 pm
Sundays - September 23, 30 & October 7, 14, 21 - 1:30 pm & 4:30 pm
Performance Dates and Times: Friday, September 21 at 7:30 pm; Saturday, October 6 at 1:30 pm; all other Saturdays at 1:30 pm & 4:30 pm; Sundays at 1:30 pm & 4:30 pm
Ticket Prices: $14 - $40
Single tickets available August 1st. Reserve early for best pricing!
Tickets also available on-line at www.dct.org

ABOUT LYLE HUCHTON
Lyle has been a working costume designer/stylist in the Dallas area for 20 years. Regional and national commercials: AT&T, Church's Fried Chicken, Texas Lottery, and Chick-fil-A. For DALLAS CHILDREN'S THEATER: "Diary of a Worm, a Spider and a Fly"; "Tuck Everlasting"; "Alexander and the Terrible, Horrible, No Good, Very Bad Day"; "Junie B. in Jingle Bells, Batman Smells"!; "Miss Nelson is Missing!"; "Aladdin and the Wonderful Lamp". Regional theater: DALLAS THEATER CENTER, THEATRE THREE, KITCHEN DOG THEATER, and THE DALLAS OPERA. Television: PBS series Barney and Friends (2008 and 2009 Daytime Emmy Outstanding Costume Design Nominations) and National Tours for The Wiggles and Barney Live. He received his training at the University of North Texas.
ABOUT NANCY SCHAEFFER
Nancy Schaeffer has served Dallas Children's Theater since its founding in 1984, first as a teacher and actor and now as Director of all Education Programs and outreach activities. A graduate of Western Kentucky University, Ms. Schaeffer has directed numerous DCT productions including "Junie B. Jones..."; "How I Became a Pirate";"don't u luv me?"; "Madeline's Christmas"; "EAT (It's Not About Food)"; "Goodnight Moon"; "The Secret Life of Girls"; "Stuart Little"; "If You Give a Mouse a Cookie"; "The Island of the Skog"; "Honk!"; "Babe, the Sheep-Pig"; "Jack & the Giant Beanstalk"; "The Wonderful Wizard of Oz"; "Bunnicula"; "Lyle the Crocodile"; "Miss Nelson is Missing!" (1999 &2010); "Miss Nelson is Back!"; "If You Give a Moose a Muffin" and "If You Give a Pig a Party" (both of which she adapted for the stage); "The Surprising Story of the Three Little Pigs"; "The Boxcar Children"; "Sideways Stories from Wayside School"; "Lilly's Purple Plastic Purse" (2002 & 2008); and twelve productions of "The Best Christmas Pageant Ever!" As Education Director, Ms. Schaeffer oversees numerous programs including: DCT Academy, which offers year-round classes to more than 2000 young people, ages 3 through 18; Curtains Up On Reading, an in-school residency program that integrates drama, literature, language arts, social studies, and history; After School and Summer Drama Classes that benefit "at-risk" youth through eight after-school satellite arts programs, and DCT's Teen Scene, which nurtures the theater audiences and professionals of tomorrow by opening communication between teens, theater professionals and the community at large.
ABOUT DALLAS CHILDREN'S THEATER
Dallas Children's Theater features paid professional actors performing for an annual audience of 250,000 young people and their families through 9 main stage productions, a national touring company, and an arts-in-education program. As the only major organization in Dallas focusing solely on youth and family theater, DCT builds bridges of understanding between generations and cultures, instilling an early appreciation of literature, art and the performing arts in tomorrow's artists and patrons.
DALLAS CHILDREN'S THEATER BY THE NUMBERS
• DCT reaches more children and families annually than any other performing arts organization in the metroplex.
• More than 50,000 students and teachers experience DCT at an extremely discounted price each year.
• 10,000 FREE tickets are given away each year by DCT for the Mayor's Summer Reading Program.
• Over 3 million people have seen a DCT performance in its 28-year history.
• DCT produces 535 performances each year; 368 in the Rosewood Center for Family Arts; 386 in Dallas; and another 149 beyond the metroplex.
• DCT's Tour travels to nearly 26 states and 52 cities annually. DCT has even taken its award-winning work to the far corners of the world, including Shanghai, China.
• DCT earns 60% of its operating funds through ticket sales and other revenue. The remaining 40% comes from charitable giving, made possible through donations and special events.
• DCT has been recognized by TIME Magazine as one of the top five children's theaters in the country.