ROUGH CROSSING   by Tom Stoppard
What happens when two playwrights, their composer, their leading lady and man set sail across the Atlantic, bound for Broadway, to present their new play, which, alas, doesn't quite have an ending, and the beginning needs work, and the middle's a mess?  Hilarious Trouble!  The composer has trouble speaking and is in love with the leading lady, who has trouble fending off the advances of her leading man.  The steward has trouble standing up and serving drinks, and the two playwrights have trouble with the ship's captain who considers himself a playwright!  All this trouble resolves itself with brilliant wordplay, showbiz spectacle, and a little seasickness!    
Directed by Kelly Scott
PERFORMANCES:  November 2 – 17, 2012

Cover Of Life by R.T. Robinson      
Tood, Weetsie, and Sybill are brides in rural Louisiana in 1943, married to the Cliffert brothers who are fighting in the war. A local news story about these young wives living with their mother-in-law intrigues Henry Luce. He decides that they belong on the cover of Life Magazine, and assigns Kate Miller to the story. She has been a war reporter, and though she views doing a "women's piece" as a career set back, she accepts because it will be her first cover story. Kate spends a week with the Cliffert women, and discovers how much she and they share, despite their differences, as each seeks to find her way in a man's world.  Based on a true story of the playwright's family in Bastrop, Louisiana.
Directed by Jill Stephens
PERFORMANCES:   January 18—February 2, 2013

Fools by Neil Simon      
Leon Tolchinsky is ecstatic. He's landed a terrific teaching job in an idyllic Russian hamlet. When he arrives he finds people sweeping dust from the stoops back into their houses and people milking upside down to get more cream. The town has been cursed with Chronic Stupidity for 200 years and Leon's job is to break the curse. No one tells him that if he stays for over 24 hours and fails to break the curse, he too becomes stupid.  But, he has fallen in love with a girl so stupid that she has only recently learned how to sit down.  Can he break the curse in time?  Will Something Something Snetsky, the shepherd who can't remember his name, ever find his sheep?  Neil Simon serves up plenty of laughs in this tale about how people are only as stupid as they think they are, and if they believe that's not true, then anything is possible. 
Directed by Dave Schmidt
PERFORMANCES:   March 15—30, 2013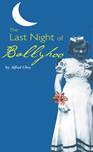 The Last Night of Ballyhoo by Alfred Uhry      
This Tony award-winning romantic comedy drama from the author of "Driving Miss Daisy" follows the Freitag family, owner of the Dixie Bedding Company, in Atlanta, December, 1939.   Gone with the Wind is about to premiere, and news of Hitler invading Poland is all over town, but the only important event for local Jews is Ballyhoo, a lavish cotillion at their exclusive Standard Club.  Wealthy Beulah "Boo" Levy is desperate for her plain daughter Lala to get a date for the dance, especially since Lala's attractive cousin, Sunny, from Wellesley College is going with a New Yorker named Joe Farkas. But it turns out Joe is a working class Jew from Brooklyn, and when he encounters snobbery and prejudice at the club, he walks out.  Will Sunny and Joe avoid the land mines of prejudice in their way? Will Lala ever get to Ballyhoo? The family gets pulled apart and then mended together with comedy, romance and revelations. 
Directed by Bruce R. Coleman
PERFORMANCES:  May 17—June 1, 2013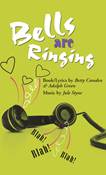 Bells Are Ringing, Book/Lyrics by Betty Comden and Adolph Green; Music by Jules Styne  
Ella Peterson works for "Susanswerphone", a telephone answering service. She listens in on the lives of her clients: an out-of-work actor, a dentist with musical yearnings but no talent, and a playwright, Jeff Moss, who desperately needs a muse.  Known to them as "Mom," she gives them plenty of advice, but what happens when she falls in love with Jeff?  Meanwhile, the police are certain Sue's business is a front for an "escort service," and her shady boyfriend is using the agency as a bookmaking operation!  The score, by turns brassy, sweet and romantic, includes "Just in Time," "The Party's Over," "I Met a Girl," "Long Before I Knew You" and other great tunes from Betty Comden and Adolph Green, authors of Singin' in the Rain, and Jule Styne, who composed Gypsy.  
Directed by Michael Serrecchia; Musical Direction:  Adam Wright; Choreography:  Megan Kelly Bates
PERFORMANCES:  July 26—August 10, 2013
Season Tickets Now On Sale, call the Irving Arts Center Box Office: 
972-252-2787
Tues-Sat, noon – 5pm
All performances are at the Dupree Theater in the Irving Arts Center,
3333 N. MacArthur Blvd, Irving, TX  75062.