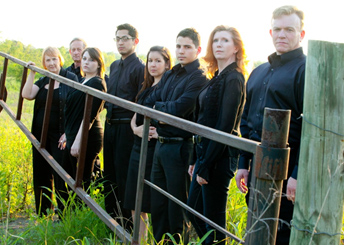 Arlington, TX –Thirteen years ago, while Matthew Shepard fought for his life in a Wyoming hospital, Susan Burk attended a candlelight vigil held in his honor. She can still smell the wax of the candles. She can still feel the breeze. She can still see the hate etched in the face of Fred Phelps and other Westboro Baptist members. Sadly, she still sees that same look in other faces. She still sees the terrible effects of that hate in the victims of bullies and hate crimes more than a decade later. This is a topic she will address at Theatre Arlington during the panel discussion following the performance of The Laramie Project on May 20.
The Laramie Project addresses a horrific hate crime that took place in October of 1998 in the small town of Laramie, Wyoming.  A young man by the name of Matthew Shepard was brutally beaten, tortured and then tied to a fence and left to die. He hung on the fence for more than 12 hours until a man passing by on a bicycle realized the scarecrow hanging there was a human being. He was beaten, and ultimately murdered, for the simple fact that he was gay.
Five weeks after this appalling tragedy, Moisés Kaufman and members of the Tectonic Theater Project traveled to Laramie and spent the next year interviewing more than 200 people. They compiled those interviews into a poignant and affecting piece called The Laramie Project which chronicles life in the town in the year after the murder.
Susan Burk, a senior news anchor for the NBC affiliate in Casper, WO., at the time of the murder, is now The Laramie ProjectSpecialist for The Matthew Shepard Foundation. Her job is to provide support for schools and community productions of The Laramie Project.A few of the ways in which she provides such support is through the provision of education materials, advice on productions and historical context. Her strong background in theater makes her even more capable of providing the type of insight these companies need. Combine her expertise in various relatable fields, including working with law enforcement as a victims advocate, with her unabating passion for her work and you have an incredibly strong asset for The Matthew Shepard Foundation.
"I believe The Laramie Projectis a very important instrument for education and change - a way to discuss and explore how hate impacts every part of our society," she states when asked why it is important for theater companies and schools to continue to stage The Laramie Project.

She continues,"Although Matt's murder was more than 13 years ago, the fundamental issues unfortunately remain and the play captures the stark reality that hate still lives on in all our communities, large and small. I hear from companies not just in the U.S., but in Canada, Australia, the U.K., France and other countries. The people I talk to have similar stories to tell, of being bullied or attacked, harassed or murdered. Sometimes it was a friend, sometimes a relative, sometimes themselves, but it's very apparent that this is a story that still needs to be told.  These plays are not about being gay. They are about being targeted and hurt for being different, or perceived to be different, whatever that difference may be. The Laramie Project helps open our eyes that we need to replace hate with compassion, acceptance and understanding."
The Laramie Project runs May 18 – June 3, 2012 at Theatre Arlington. Performances are Thursdays at 7:30 p.m., Fridays and Saturdays at 8 p.m. and Sundays at 2 p.m. Tickets are $19 with discounts available for students, seniors and groups of ten or more. Following the show Friday, May 18, is an opening night reception catered by Black Finn American Saloon where patrons may mingle with the cast and crew.
The panel discussion and talk-back featuring Susan Burk of The Matthew Shepard Foundation is following the performance on Sunday, May 20. Reverend Carol West of Celebration Community Church in Fort Worth will also be a panelist. The audience is invited to stay and join in the discussion along with the cast and crew.
Theatre Arlington is located at 305 W. Main Street in Arlington, TX. Tickets may be
purchased over the phone by calling 817.275.7661 or online at www.theatrearlington.org.