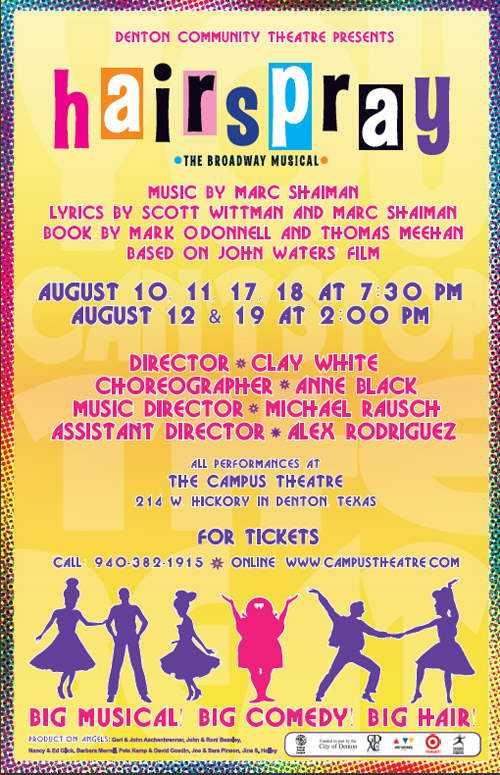 Denton Community Theatre is spraying tons of Ultra Clutch hairspray in the air as they are thrilled to announce the cast of their 2012 summer production, the Tony Award winning smash hit HAIRSPRAY! The hit musical won 8 Tony Awards including Best Musical, Best Book, & Best Score. They are:

PRODUCTION STAFF:
Directed by Clay White
Choreography by Anne Black-Scalf
Musical Direction by Michael Rausch
Assistant Direction by Alex Rodriguez
CAST:
Tracy Turnblad: Ashley Taylor Martin
Edna Turnblad: John Garcia
Link Larkin: Greg Gerardi
Amber Von Tussell: Katie Williams
Penny Pingleton: Katelyn Branson
Velma Von Tussell: Maria Harris
Prudy Pingleton: Sussanne Coffey
Motormouth Maybelle: Victoria Bell
Conry Collins: Tyler Donahue
Fender: Alex Rodriguez
Brad: Drew Stone
Sketch: Trent Lewis
IQ: Vincent Potts
Tammy: Jessica Cope
Luanne: Casey Bachus
Shelly: Piper Johnson
Brenda: Elizabeth Gardner
Seaweed: Christopher Portley
Inez: Zoey Johnson
Duane: Robert Gibson
Stooie: Edwin Oghakpor
Thad: Walter Filmore
Gilbert: Chris Mays
Dynamite/Ensemble: Taylor Green
Dynamite/Ensemble: Megan Carter
Dynamite/Lorrain: Maryann Williams
Adult Figure Male: Damon Wadyko
Adult Figure Female: Julie Brinker
Wilbur Turnblad: Ken Orman

Ensemble:
Jeremy English
Trey Garza
Marcellus Mayberry
Briana Crowe
Brandi Blakemore
Kacie Rogers
Emma Hankins
Emily Jones
Emmay Hay
Jaclyn Butt
Mickey Farmer
Kelli Pistokache
Leslie Fredrickson
John Fredrickson

Welcome to the 60's! Baltimore, bouffants, and big time musical
fun! Plus-sized teen, Tracy Turnblad, dreams of being on the
local dance show, but her size & progressive views on
racial integration make her less than popular with upper
management. She makes the cut, however, and proves that when
your heart is in the right place, You Can't Stop the Beat!
HAIRSPRAY runs August 9-19, 2012. Tickets on sale to General
Public June 25. For more info: