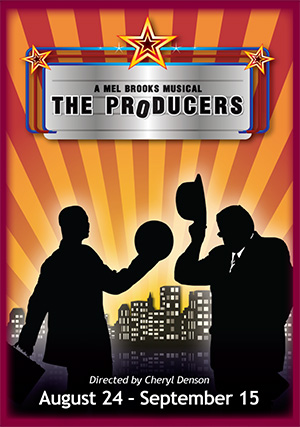 Uptown Players is very thrilled in announcing the cast and production team for their upcoming production, the Mel Brooks musical comedy smash, THE PRODUCERS. They are:
*CAST:
Max Bialystock – B. J. Cleveland
Leo Bloom – Brian Hathaway (COLUMN AWARD WINNER)
Franz Leibkind – Tony Martin (COLUMN AWARD WINNER)
Roger DeBris – Brad Jackson
Carmen Ghia – Peter DiCesare
Ulla– Whitney Hennen

Male Ensemble:
Mikey Abrams
Michael Albee
Jonathan Bragg (2012 COLUMN AWARD WINNER)
Ryan Cowles
Zach Gamet
Thomas Renner
Calvin Roberts
Ashton Mckay Shawver

Female Ensemble:
Kellie Carroll
Caitlin Darby
Emily Ford
Mary Jerome
Kelly McCain (COLUMN AWARD WINNER)
Jennie Titiryn
Shannon Walsh
Lisa Ward
*PRODUCTION STAFF:
Directed by Michael Serrecchia (COLUMN AWARD WINNER)
Music Direction by Scott A. Eckert (COLUMN AWARD WINNER)
Choreography by Megan Kelly Bates
Equity Stage Manager – Cathy O'Neal
Equity Assistant Stage Manager – Adam Hughes
Set Design/Adaptation by Rodney Dobbs
Lighting Design by Jason Foster (COLUMN AWARD WINNER)
Costume Design/Adaptation by Suzi Cranford (COLUMN AWARD WINNER)
Wigs/Make Up Design by Coy Covington (COLUMN AWARD WINNER)
Sound Design by Virgil Justice
Props Design/Adaptation by Joanne Hull
Master Carpenter – Dennis Canright
Dance Captain – Kellie Carroll

The Producers won a record 12 Tony Awards in 2001. In The Producers, a down-on-his-luck Broadway producer and his mild-mannered accountant come up with a scheme to produce the most notorious flop in history thereby bilking their backers (all "little old ladies") out of millions of dollars. Only one thing goes awry: the show is a smash hit! The antics of Max Bialystock and Leo Bloom as they maneuver their way fecklessly through finding a show, hiring a director, raising the money and finally going to prison for their misdeeds is a lesson in broad comic construction. At the core of the insanely funny adventure is a poignant emotional journey of two very different men who become friends.
The Producers runs August 24 – September 15, 2012 at the Kalita Humphreys Theater.
For more information or tickets, please visit www.uptownplayers.org