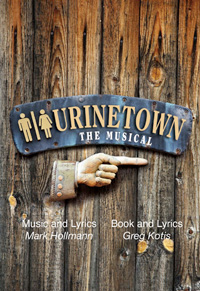 ICT MainStage proudly announces the cast & production staff
for their upcoming production, URINETOWN: THE MUSICAL.
They are:

PRODUCTION STAFF:
Directed by Chris Robinson (COLUMN AWARD WINNER)
Musical Direction by Mark Miller
Choreography by Eddie Floresca (COLUMN AWARD WINNER)
CAST:
Officer Lockstock –Mike Hathaway
Penelope Pennywise - Caroline Rivera (2011 COLUMN AWARD WINNER)
Bobby Strong – Kyle Montgomery
Little Sally – Keslie Ward
Hope Gladwell – Michelle Foard
Mr. McQueen - Jerry Downey
Caldwell B. Cladwell – Scott Bardin
Senator Fipp - E. Scott Arnold
Officer Barrel – Greg Hullet (2012 COLUMN AWARD WINNER)
Old Man Strong/Hot Blades–Harry Charles Wallace
Soupy Sue/Gladwell's Secretary– Sahara Glasener Boles
Tiny Tim/Dr. Billeaux – Marcus Jauregui
Little Becky Two-Shoes/Mrs. Millennium – Janelle Lutz
Robby The Stockfish/UGC Executive#2–Nick Haley
Billy Boy Bill/USC Executive #1 – Xavier Lagunas
Josephine Strong/Old Woman – Kimberly Smith

The musical opens August 3—18 at the Dupree Theater in the
Irving Arts Center.