Welcome to our new website!!!

Welcome to the NEW, EXCITING, VIBRIANT, LUSH, GORGEOUS official website to THE COLUMN! It was time to completely redo, redesign, and restructure the old site.
After months of long work of transferring all the pictures, reviews, etc. from the old site today we are officially launching our LAVISH, ELEGANT new website.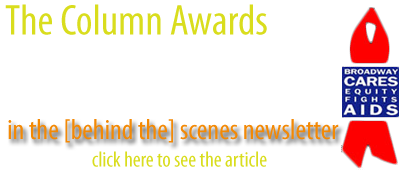 PLEASE NOTE: We are still in the process of updating old reviews into the new website, so please be patient. It should not be that long before ALL past and current reviews will be up and posted onto the new website. So thank you for your patience on this.
Now all CURRENT, RECENT, NEW reviews that are sent out to the massive readership will be posted within 24 hours on this new site for ALL TO SEE! That way you can simply add the link to our website for your friends, colleagues, etc. can view the review on our new site. You will also be able to post on Face Book, websites, etc. your show's reviews by simply adding the link to your review from THE COLUMN.