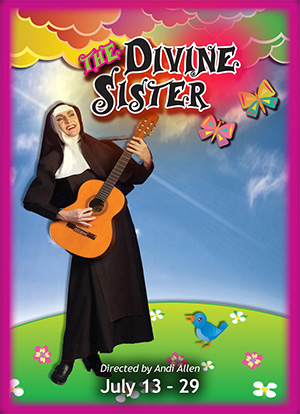 Uptown Players is very honored to announce the cast of the REGIONAL premiere of the recent smash off-Broadway hit by Charles Busch, THE DIVINE SISTER. They are:

PRODUCTION STAFF:
Directed by Andi Allen
Stage Management by Blake Kile
Set Design by Clare Floyd Devries
Master Carpenter - Dennis Canright
Lighting Design by Amanda West
Sound Design by Virgil Justice
Costume Design by Suzi Cranford
Prop Design by Amy Hughes

CAST:
Mother Superior: Coy Covington
Sister Walburga/Mrs. Macduffie: Lee Jamison
Sister Acacius: Janette Oswald
Agnes: Teri Rogers
Mrs. Levinson/Timothy: Mary-Margaret Pyeatt
Jeremy/Brother Venerius: Kevin Moore
Uptown Players returns to the Kalita Humphreys Theater in July for the regional premiere of this holy outrageous off broadway hit. The Divine Sister is a comic celebration of such Hollywood films as The Song of Bernadette, The Bells of St. Mary's and The Singing Nun! St. Veronica's indomitable Mother Superior, played by drag diva Coy Covington, leads us on this madcap trip through Tinseltown's religiosity. It's miraculous, zany fun!
For tickets and information, visit www.uptownplayers.org